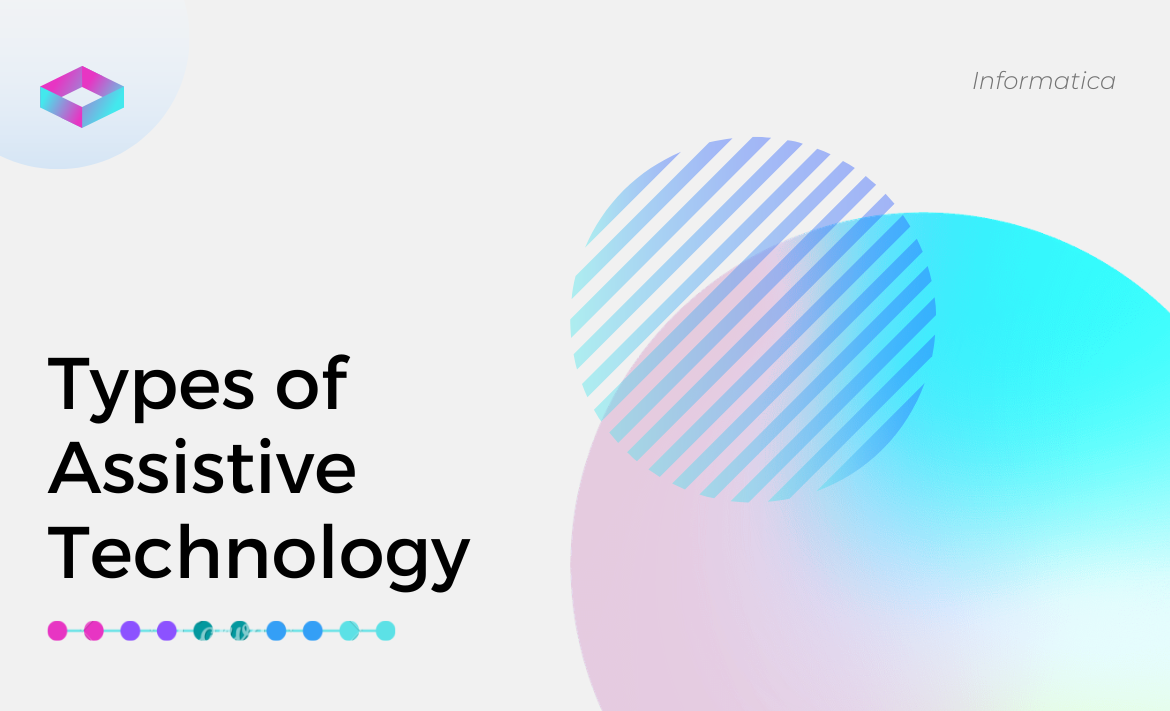 Assistive Technology has been a part of human beings for a long time now. In fact, the earliest use of wheelchairs can be traced back to China back in 5 th Century. From eyeglass to a crutches, and wheelchairs, all these are parts of Assistive Technology essentially service people with different disabilities.
Assistive can be something simplistic like using a duct tape to assist gripping, or can be highly sophisticated, generating speech using eye motion- something Dr. Stephen Hawking used to converse.
Assistive technology may also be commercially available for end use, or customized for a specific use, or even simply modified a little to aid usage, type of sophistication and the technology used depends upon the type of impairment addressed.
As there exist different category of impairments, there are different categories of Assistive Technology that have been described below.
Vision
Assistive Technology for people who are blind or visually impaired, including those used for daily living activities, accessing computers, wayfinding, and other needs. For example:
Talking devices such as a talking thermostat,
Large print materials, and
Braille displays,
Magnifiers,
Screen reading software,
Phones with large tactile buttons.
Text-to-speech systems using Optical Character Recognition (OCR),
Hearing
Assistive Technology for people who are Deaf or hard of hearing, including those used for daily living activities, communication, and other needs. For example:
Wireless TV listening systems,
Vibrating alarm clocks,
Personal amplification systems,
Mobile devices with texting or specialized apps.
Doorbell with flashing light alert,
Face-to-face dual keyboard communication system,
Amplified telephones,
Portable closed captioning system,
Phone with captioning, and
Speech Communication
Assistive Technology for people with speech disabilities who need assistance with speaking including face-to-face communication. For example:
Fluency assistance devices,
Artificial larynx,
Voice amplification systems,
Communication boards,
Symbol-making software, and
Speech generating devices.
Speech output software,
Learning, Cognition, and Developmental
Assistive Technology for who need assistance with learning, attention, memory, and organization. For example:
Text-to-speech systems to support learning (not related to vision needs),
Memory aids,
Notetaking systems,
Reminder systems,
Mobile devices with specialized apps, and
Audio books.
Mobility, Seating, and Positioning
Assistive Technology for people who need mobility assistance. For example:
Walkers,
Wheelchairs,
Canes,
Crutches,
Power chairs as well as products designed to provide postural and pressure management.
Scooters, and
Daily Living
Assistive Technology for people with disabilities and the elderly with functional limitations. These products increase independence in performing activities of daily living such as bathing, dressing, personal hygiene, eating and other basic home/life activities including shopping and money management. For example:
Reacher,
Dressing aids such as zipper pulls and button hooks,
Long handle shoe horn,
Walker carrying bag,
Adapted kitchen tools and eating utensils,
Wheelchair cup holder,
Switch-adapted appliances.
Automatic soap dispenser,
Book stand,
Vacuum robot, and
Environmental Adaptations
Assistive Technology to increase access to homes, businesses, and other buildings by people with disabilities and include systems to open/lock doors, control lighting, temperature and other environmental needs. For example:
Ramps,
Systems designed to remotely control appliances,
Door openers,
Lifts,
Other products using a switch, voice or other method of activation.
Electronics, and
Vehicle Modification and Transportation
Assistive Technology that promote safe access to transportation and increase independence through vehicle adaptations. For example:
Hand controls,
Adaptive seat belts.
Tie and lock downs for securing a wheelchair to the floor of the vehicle,
Lifts,
Raised roofs, and
Ramps,
Computers and related peripherals
Assistive Technology that help people with disabilities access and use computers. For example:
Alternative keyboards and input devices, and
Specialized software such as screen magnification software for people with low vision,
Voice recognition.
Recreation, Sports, and Leisure
Assistive Technology that help people with disabilities participate in sports, recreation, and leisure activities. For example:
Camera mounts, and
Adapted sporting equipment.
Switch adapted toys,
Playing card shuffler,